Installing drawer slides is one of the very basic home installation skills. Proper installation of the slide rails can increase the life of the drawer and make it easier to open and close. In this article, we will provide a detailed guide for installing drawer slides so that you can smoothly install them at home.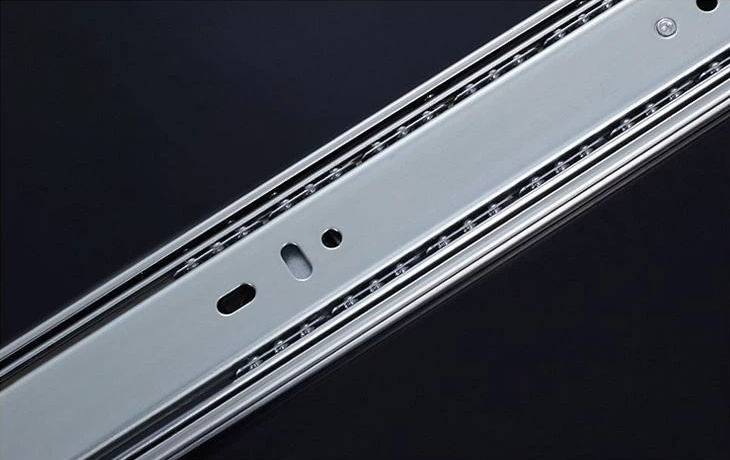 1. Prepare tools and materials:
Before starting the installation, you will need the following tools and materials:
1.1 Drawers and cabinets
1.2 Drawer slide assembly
1.3 Electric drill
1.4 Phillips head screwdriver
1.5 Measurement tools
1.6 Pencil and paper
1.7 Plastic hammer and steel ruler
2. Measure:
First, you need to measure the dimensions of your drawers and cabinets. Using a steel ruler and a measuring tool, measure the height, width, and depth of the drawer. Then, measure the depth, height and width of your cabinet. Use a pencil and paper to record each dimension and measurement to ensure the rails are sized correctly when you install them.
3. Install the slide rails:
Attach the slide rails to the bottom of the drawer. Punch a hole in the center of the bottom, making sure the hole lines up with the hole on the rail. Work the screws through the holes and sink into the bottom of the drawer. This is to install a slide rail for the drawer.
4. Install the slide rails on the cabinet:
Punch holes in the bottom of the cabinet center. Use a Phillips head screwdriver to attach the screws to the holes. Then, hang one of the slides over the screws so that it is flush with the slide on the drawer. Note that you need to make sure the rails are level. If the slide rail is not level, it will affect the use and sliding of the drawer.
5. Install the drawer:
Lift the drawer up and attach the slide rails to the cabinet. Make sure the slides on the drawer line up with the slides on the cabinet, and push the drawer into the cabinet.
6. Run the test:
Make sure the drawer's slide goes back into the cabinet the way it should, and that it slides. Turn it on and off a few times to make sure the rails are working properly. If you find that the rail is not working as expected, you may need to reposition it or reinstall it.
Summarize:
Installing drawer slides is not a difficult task. Accurate measurements, proper installation and careful handling will ensure success. So when you're looking to add even more convenience to your cabinets and drawers, it's time to get started with this easy home installation.
People also ask:
1. Working Principle:
What metal are drawer slides made of?
2. Installation and Maintenance:
How to Install Ball Bearing Slides
How to Install Metal Drawer Slides
Guide To How to Install Metal Drawer Slides?
3. Related product recommendations:
How To Choose The Correct Length Full-Extension Drawer Slide
4. Products Introduction
Drawer Slides Selection Guide: Types, Features, Applications